Welcome to necksaviour Mini – It's so simple! Traction and stretching around the neck have been shown to relieve neck pain, tension, and headaches. Necksaviour produces this cervical traction and stretching. Being flat and made of foam, when you bend necksaviour, it tries to spring back to being flat. When you place a folded necksaviour behind your neck between your head and shoulders, it tries to unfold creating this gentle traction and stretching. This can be very therapeutic and just feels great!
STRETCH AND TRACTION
"I've been using the necksaviour every day since it's arrived and it's already making a huge difference! It's keeping my headaches at bay and improving my posture…I'm so relieved to find an alternative to the migraine medications, Thank you!". — Ann E.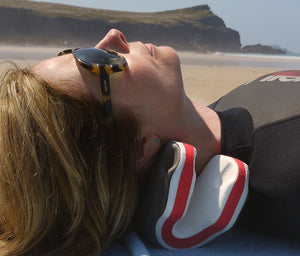 Necksaviour Mini Testimonials
Ann E.
"I've been using the necksaviour every day since it's arrived and it's already making a huge difference! It's keeping my headaches at bay and improving my posture. Normally I find myself pulling at my neck, twisting and cracking it throughout the day – no need to do any of those things anymore. I'm so relieved to find an alternative to the migraine medications, Thank you!"
Robert Spratley
"Great product. Tried and tested by us and ordered a few for our chiropractic clinic."
Matt Evans
"Two weeks of daily use of the necksaviour and my neck pain is virtually eliminated and I feel more comfortable than I have for as long as I can remember. My recommendation for this simple to use, but the effective product could not be stronger."